Tim Burson Co-Authors 2 Chapters in ABA's Law of Probate Bonds 2d Ed.
By March 13, 2015 News/Events/Seminars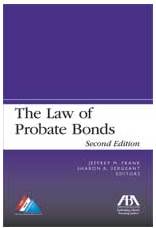 The ABA recently published and released for sale The Law of Probate Bonds Second Edition, edited by Jeff Frank and Sharon Sergeant. The Firm'sTim Burson is the co-author of Chapters 8 and 9 dealing respectively with bond liability for loans and losses that occurred before the bond was issued. This edition is a 20 chapter book on the leading issues involving bonds for Personal Representatives, Administrators, Property Guardians and Conservators and other probate fiduciaries. Tim authored a chapter in the first The Law of Probate Bonds on the effect of the bond penal sum limitations.